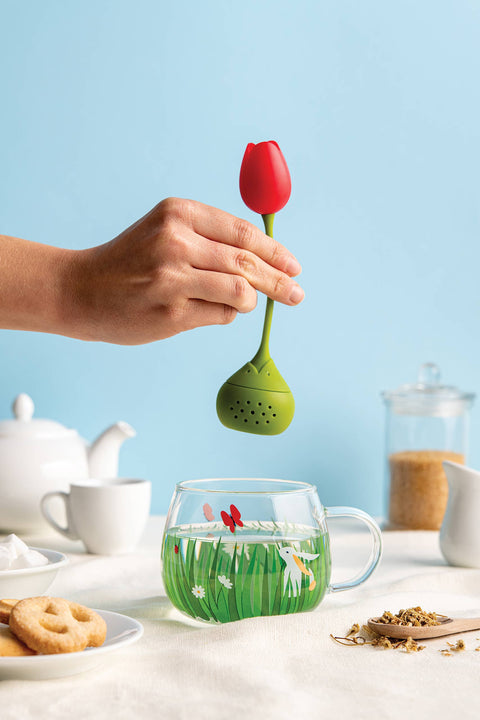 OTOTO
Tea Garden - Tea Infuser and Cup
Checking local availability
Par-tea Time in the Garden - Escape from your worries and sip a cup of calming tea made by the adorable tulip infuser and teacup set. Made by the design-awarded OTOTO Studio, this cute tea infuser will transport you into another world with every cup.
A 'tea-rrific' gift - Looking for tea gifts for tea lovers, women and men? Tea Garden, the tea diffuser and cup combo is a must-buy! More than just a fun kitchen gadget, this tea steeper duo is here to make sure that everyone has a 'brew-tea-full' time!
Top 'Quali-tea' - A functional gadget that's top quality, like our other tea infusers, tulip is BPA-free and food-safe. Using Tulip is as easy as 1-2-3! 1) Open the cap, add loose tea leaves, and then close. 2) Plant Tulip into a cup. 3) And voila!
Adorable 'Functionali-tea' - The little holes on our tulip loose tea infuser are cute yet functional. They make sure loose tea leaves remain inside, while hot liquid seeps through the entire ride. Brewing tea has never been this clever.
Founded by international designers, Ori Saidi and Daniel Gassner
Founded by Ori Saidi and Daniel Gassner.

"OTOTO means any minute now. An innovative idea can pop into your head at any given moment. When they do, we are delighted and want to share! We never know when they will appear, but find them in everyday moments and tasks .... even in our dreams. We want to share our inspirations through products with anyone who appreciates creative design as much as we do. The next great idea is always right around the corner, waiting to arrive. OTOTO products are functional household items with a witty and unexpected twist. Humor is an important part of our design process. We try to infuse whimsy and playfulness into every product, alongside functionality. OTOTO products can be found in museums, art galleries and design expos, as well as in-home design and gift shops around the world. We met in 1999 at the Ascola School of Art and Design in Tel Aviv. It was the beginning of a beautiful friendship. In 2004, we embarked on a mission to open a design studio, and named it OTOTO."
Go to top