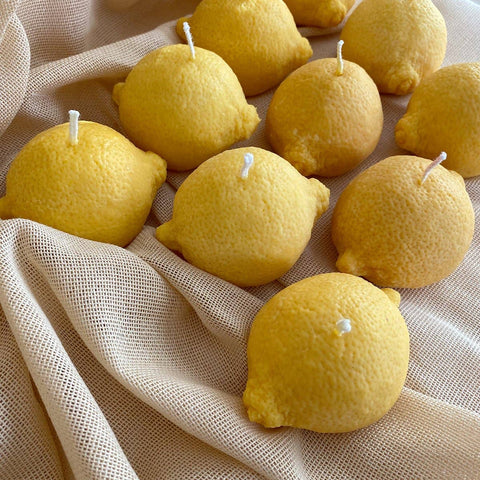 Scandles
Lemon Candle - Single
Checking local availability
⭐️ IN-STORE PICKUP ONLY ⭐️
When life gives you lemons… light 'em up! 🍋🍋🍋🍋🍋🍋
After years of starring in still life paintings, the humble lemon has finally jumped mediums and is one of our favorite candles. This lemon candle looks great on its own, as a pair (or bunch) as well as in a fruit bowl… you just have to watch out for inattentive chefs!
Dimensions: H: 2" W: 3" D: 2"
Made from Natural Soy Wax
These candles are hand-poured and made with 100% natural soy wax and scented with essential oils.
Each candle is handmade so color, scent, and appearance may vary slightly and may have cosmetic imperfections left by the hands of those who created them.
Our candles are designed for a decorative purpose.
---
IMPORTANT CANDLE CARE INFO FROM SCANDLES!
We advise that before lighting your candle, it is placed on a suitable surface for collecting wax. Please trim your wick to 1/4" before lighting - by trimming the wick this allows a cleaner and even burn. We recommend lighting your candles for shorter periods of time (maximum of 45 minutes), this will allow your candle to tunnel. (Tunnelling will prevent the candles outer shape being distorted and excessive wax dripping)
Trim the candle wick in between each time you light it to allow a cleaner burn.
Always burn your candles within sight. Do not leave unattended Keep out of reach of children and pets. Never burn your candle on or near anything that could catch fire.
Scandles is not responsible for the misuse of our candles.
(And Yumday is not responsible for the misuse of these candles either!)
Scandles are made with 100% Soy Wax and scented with essential oils. Hand-poured in Los Angeles. Scandles candles are vegan, cruelty-free, non-toxic and shipped with eco-friendly materials. Decorative candle pieces to outrage the norm. Yin Yang shapes, Mid Century Bubble, female figures, Pillar candles in all colors and more – light 'em up! Sticks and stones may make our homes but wax and wick make it click!
Go to top