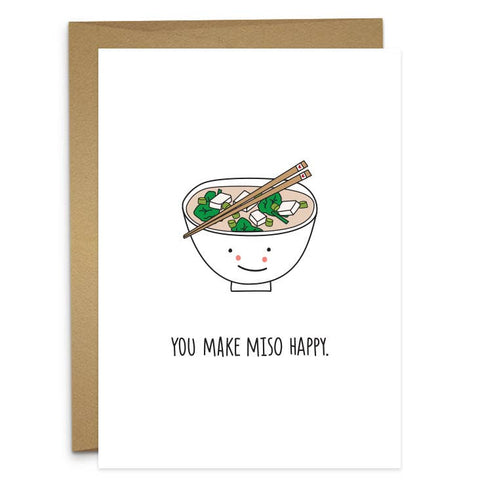 Humdrum Paper
Miso Happy Greeting Card
Checking local availability
You and food make me soo happy. Good for the friend who loves to dine. Good for the spouse who needs a hint to take you out to eat. Good for anyone who just makes you happy.
A6 folded card, blank inside, matching French paper envelope.
Want to send a card with a gift? Just tell us what message you'd like in your card! Simply include your message in the "Order instructions" field when you get ready to checkout, and we'll handwrite it for you and pack it with your order. We love making gift giving easy!
(Or buy a blank card for yourself!)
Inspired by pop culture, a fair amount of food and excessive ridiculousness, Humdrum Paper aspires to give you all the laughs. Through wordplay and humor, Humdrum offers greeting cards, die-cute bookmarks, notepads and other fun stuff. Really, I'm just in it for the laughs.
Go to top