Craving for unique and delicious snacks for your daily work-from-home grind?
Here are 10 AAPI-founded snacks showcasing different cultures and their founders' stories to inspire you and make your day delicious.
First, let me introduce you to the Asian American Islander (AAPI) community.
In the US, there are over 24 million Americans, or 7.3% of the population, who are part of the AAPI community. Many identify with their country of origin or specific ethnicity, like Chinese, Indian, Japanese, Filipino, Vietnamese, Korean, Hawaiian, and other Asian Pacific Islander ancestries. Overall there are approximately 50 ethnic groups and over 100 spoken languages belonging to the AAPI community.
As you can see, this community is highly diverse, bringing in a mixture of culture, spirituality, and of course—mouthwatering cuisines you can enjoy year-round.
What better way to unite everyone and their cultures than by sharing great-tasting food...or snacks for that matter!
via GIPHY
Copper Cow Coffee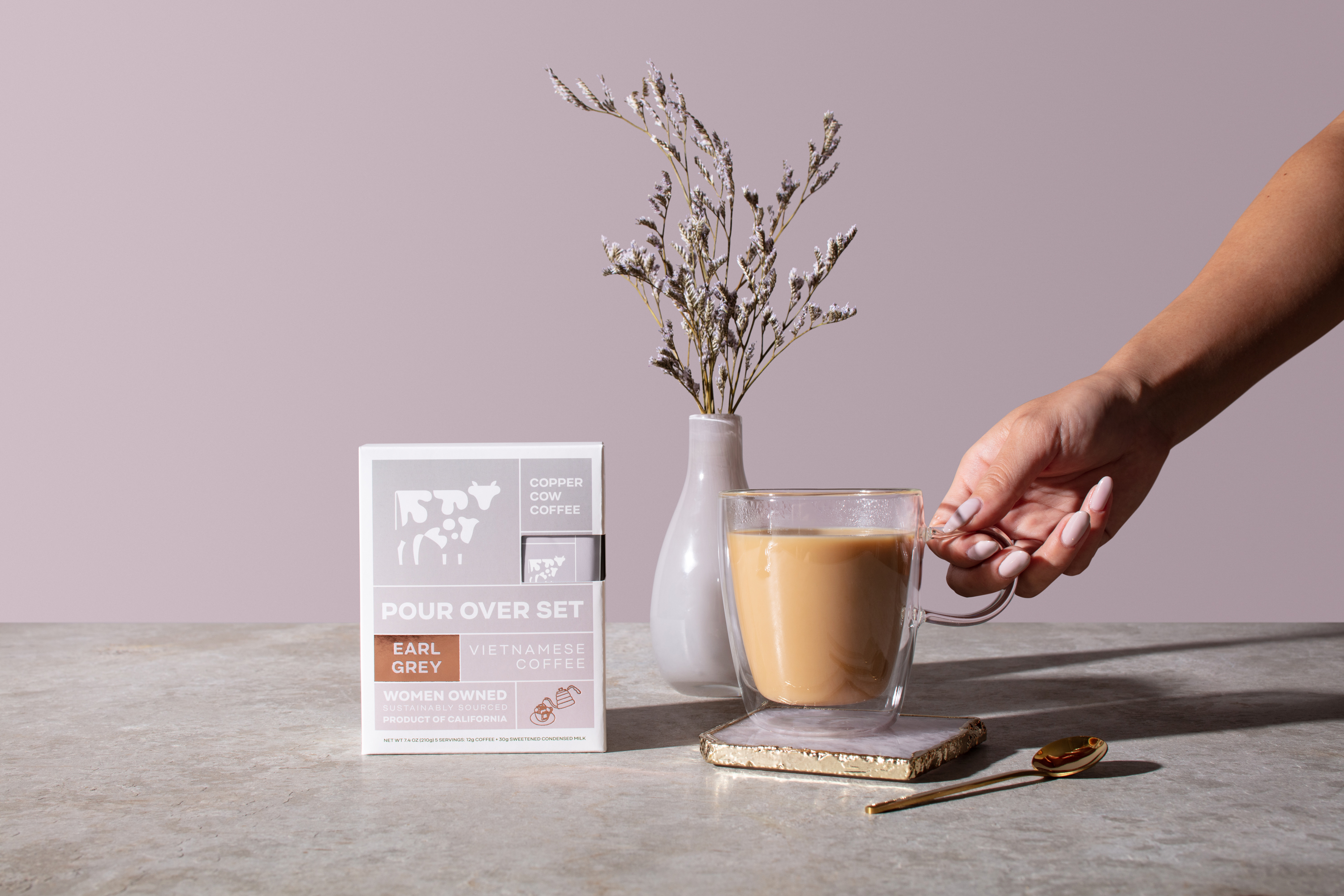 Let's start with your morning coffee!

Debbie Weil Mullin, founder of Copper Cow Coffee was born in California but grew up with Vietnamese culture.
Her mom came to the US as a Vietnamese refugee, and Debbie says she loves everything about her heritage. She loves the food, the culture, and especially the sweet, creamy treat of Vietnamese coffee. She says it's out of the world! Vietnam is the second-largest coffee exporter globally and has a pretty advanced coffee culture. Still, coffee farms have been left behind in the global sustainability push.
Copper Cow Coffee is helping specialty coffee become more sustainable in Vietnam by ensuring that farmers are properly incentivized to meet the standards they need. They've also enhanced the traditional Vietnamese coffee by infusing natural ingredients with inventive flavors like lavender or ginger.
Copper cow premium coffee uses single individual pour-overs, allowing anyone to make a gourmet coffee without any additional equipment at home.
Simply open up the package, grab the coffee with an innovative filter built into it, pour hot water, and then watch your organic coffee drip directly into your cup to start your day.
Uproot Teas
Now, if you prefer tea in the morning, you're gonna love Uproot Teas, founded by Cindy Li. Cindy's connection to tea comes from a very special place in her heart.
As a child of first-gen Chinese immigrants, tea keeps her connected to her roots in China. She has fond memories of visiting tea gardens and drinking high-quality, premium whole leaves with her family.
It's no surprise that she wrote about tea for her senior thesis in college. n her research, she recognized all of the structural and cultural challenges and inequities that persist in the system, such as how farmers are underpaid and undervalued for their work and how Asian influences are ignored in the Western consumption of tea.
Cindy committed to launching her tea business by bringing transparency to sourcing, pay, and sustainability in bringing whole leaves to consumers.
She spent a month in Hawaii, where she learned about tea farming during the day and worked on her business plan at night. She also built strong relationships with the tea farmers in Hawaii and continues to create partnerships with tea farmers globally.
Cindy also embraces sustainability and is proud to have Uproot Teas as a zero-waste business. And through her company, she hopes to bring more cultural representation and education to the tea industry.
Taste the difference of high-quality premium tea leaves with Uproot Teas.
Ancient Provisions
How about having wholesome and delicious crackers with your coffee or tea? Ancient Provisions was founded by Alex Duong, a passionate foodie nerd who started his foray into the food business by working on farms in Italy and France. When he returned to the US, he worked for CPG conglomerates and wanted to start his own business.
After various experiments, he finally settled on green banana flour, which is gluten-free and high in resistant starch, a non-digestible fiber that serves as a prebiotic for the body.
Plus, Ancient Provisions Cheddar Cheezish Crackers have that satisfying cheesy, savory taste just like Cheez-its but wholesome and tastier!
Green Mustache
If you're looking for more whimsical crackers to munch on while working from home, you should try Green Mustache.
VanTrang Manges, the founder of Green Mustache, was inspired to create her company because her older daughter is a very picky eater who would not eat any greens. As a mom, she was determined to find a solution to ensure her daughter would get her greens and enjoy her meal. In the process, she created the fun handlebar mustache-shape, crunchy snack crackers that are not just super-tasty but also plant-based, organic, gluten-free, dairy-free, and made with clean, healthy ingredients.
Eating your greens has never been so fun!
Bohana
Now, if you're looking for delicious puffs, Bohana popped water lily seeds will be your new favorite.
Bohana was coined by combining botanical and makhana (Hindi word for water lily seeds).
Co-founder Priyal Bhartia grew up eating makhana in her home country - India, where it plays a huge role in their culture, diet, and spirituality.
Priyal says the seed is always in their household. When you pray, the seed is your offering, and when you're fasting, this popped water lily seed is the only food you're allowed to eat. She was eating and snacking on it all the time when she was little, but she didn't realize how special and unique makhana was.
When she returned to India as an adult, Priyal rediscovered this superfood while she and her friend and co-founder, Nadine Habayeb, were trying to discover personalized nutrition. Everything came full circle when Priyal was learning about the fascinating story and history of Ayurveda and how Makhana was in the midst of it all.
Priyal introduced makhana to Nadine who was immediately hooked!
Together they set forth to introduce makhana to a wider audience traveling back and forth from the US to India.
Priayal and Nadine were very thoughtful in creating Bohana, from sustainable sourcing, packing, and strategic partnership. It took them almost a year to finally launch their product.
Bohana currently carries four flavors, and one of our favorites is the Himalayan Pink Salt. It's a gently salted puff, which highlights the natural flavors of popped water lily seeds. Once you try it, you'll find it hard to stop popping them into your mouth.
Karma Nuts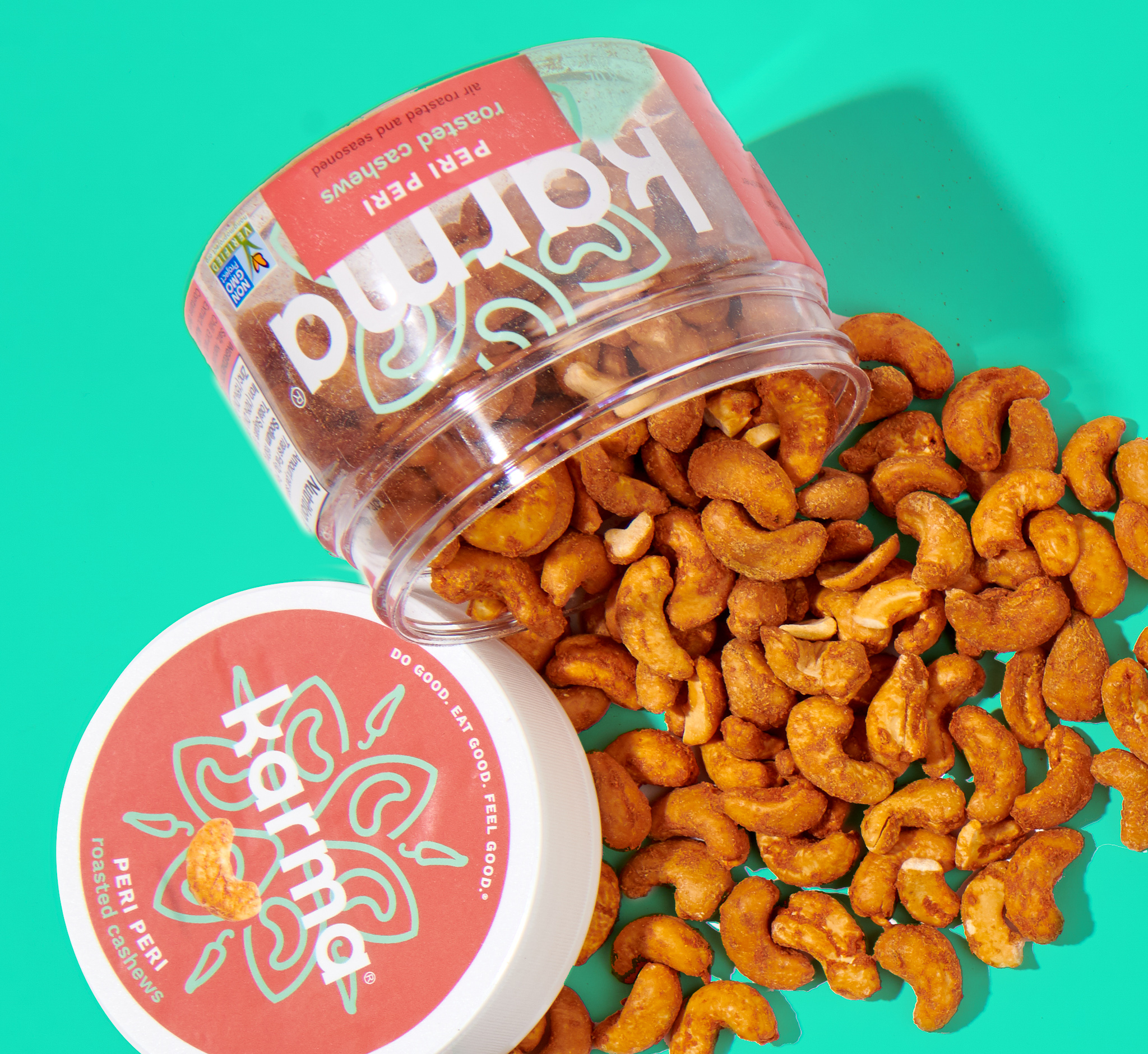 Another delightful snack to munch on is Karma Nuts, founded by Ganesh Nair. Ganesh hails from Kollam, which is the cashew capital of India. His family has been in the cashew business for over 90+ years. The name Karma was an homage to his family and his late father, who was a firm believer in the philosophy of Karma. This inspiration is further reflected in their motto "Do Good, Eat Good, Feel Good."
Ganesh found an opportunity to develop an alternative to oil-fried cashew that was normally seen on American supermarket shelves. Leveraging the process developed by his family in keeping the skins of the cashews after making it edible, Karma Nuts launched the most delectable, crunchy and nutritionally-dense wrapped cashew in the market.
It was a big hit, it was even included in the Grammy 2021 gift bag given to presenters and performers!
Taste these delicious Karma nuts worthy of the stars!
Angkor
Here's another nut you're gonna love! Blue Ginger Cambodian Roasted peanuts is one of the products carried by Angkor, a company founded by Channy Laux.

Channy is a survivor of the Khmer Rouge genocide in Cambodia. She was thirteen years old when she endured starvation, horrendous working conditions, sickness, and repeated separations from her family. After four years of no school and not knowing a word of English, she finally escaped to Nebraska as a refugee. Things started looking up for Channy when she could attend school again. After earning her Master of Science in Applied Mathematics from Santa Clara University, Channy became an Engineer in the Aerospace and Biotech industries for 30 years.
But in 2017, Channy's life took a turn and decided to walk away from the security of the corporate world. Longing to carry forward her mother's legacy, she dedicated herself to following in her mother's footsteps to spread love and share food that brings joy to everyone.
With this commitment, Chef Channy started Angkor Cambodian Food which manufactures Cambodian cooking sauces and pastes in the USA. They also provide rare Cambodian herbs grown in California by refugee farmers, and import rare spices from Cambodia.
Blue Ginger Cambodian Roasted peanuts are one of their delicious specialties. It's roasted peanuts seasoned with a trio of galangal root (blue ginger), curry leaves, and chili.
Delightful and unique, this peanut is a must-try work-from-home snack.
Pan's Mushroom Jerky
If you're craving a more satisfying snack, like a jerky, Pan's Mushroom Jerky should be part of your snack stash.
Founded by Michael Pan, this highly recommended Shark Tank favorite has the satisfying texture and delicious taste of meat jerky, but it's actually made from Shiitake mushroom. In 2008, Michael was a full-time engineer and was trying to disconnect from the digital world and get back to what matters—family.
He went on a trip to visit his extended family in Malaysia and was introduced to the rich culture and the various family recipes. One day he tried one of the pork-looking recipes made by his cousin and found it satisfyingly delicious! But he was so confused because they were vegetarian Buddhists. Soon he found out that it was actually Shiitake mushroom and that his cousin had been selling it locally. It was a hit to many vegetarians in the area, because it's very seldom people get to enjoy a plant-based food with the same satisfying texture and delicious taste of meat.
When Michael returned to the US, his passion for making the delicious Shiitake mushroom jerky mainstream was ignited. He started selling it as a side-hustle for ten years until he finally took the leap and built Pan's Mushroom Jerky.
Get your Pan's Mushroom Jerky here!
Pocket Latte
Want to snack on a delicious chocolate bar? How about tasting the first-ever coffee chocolate that's naturally caffeinated from 100% arabica coffee!
Pocket Latte was founded by Chris Young and his mom Young Kwon. Chris says he was inspired to create Pocket Latte because of his love for his mom who immigrated to the US from Korea. Young Kwon was a painter and artist and took various career paths, including graphic design, to support her two young children in the US.
Chris always admired his mom's ability to juggle the impossibilities of life and still be full of love and happiness. He longed to create a stable career for her where she could express her artistic freedom. Chris had been trying luck with entrepreneurship until he finally hit his jackpot with Pocket Latte. He calls it the "product of motherly love." which led to the core element of Pocket Latte's mission: to help struggling single parents across the nation.
Grab a bite of Pocket Latte here!
Gr8nola
Now, if you need a power bar for those tight deadlines, you might want to grab gr8nola bars by Erica Liu Williams.
Erica grew up in an Asian-American household with a very hands-on mom who inspired her to be a homemaker. She was also a former Olympic Trials swimmer with a grueling training regimen before entering the Silicon Valley corporate world. These experiences instilled in her the mindset to rise above meaningful challenges.
Erica came up with the idea for gr8nola by accident when she searched for a delicious yet healthy snack for a post-Super Bowl "cleanse" that she and her NFL husband do every year.
She started g8nola as a side hustle while still having a full-time tech career. Then after 10 years, she finally went full time with her business, supplying some of the biggest tech companies like Google, Facebook, Microsoft, and many more.
Stock up on delicious and nutritious gr8nola bars here.
Which snack piques your interest? 
 Now, if you're someone like me who appreciates convenience when it comes to filling up your pantry and snack stash at home, you can subscribe to our monthly subscription box!
Every month, you'll get a variety of nutritious and delicious snacks delivered right to your doorsteps, including some of these tasty and unique AAPI-founded brands.
Looking to supply the whole team's snack stash? Email us at hi@yumday.co and we'll arrange the most convenient and easy snack supply for everyone.