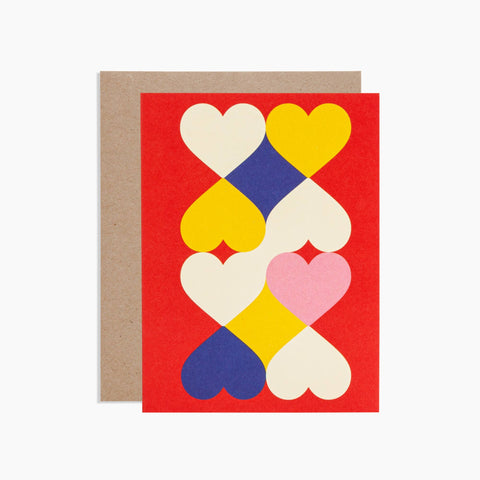 Poketo
Mirrored Hearts Card
Checking local availability
All heart, no frills. Show your love to the design buff in your life with this modern, mirrored heart graphic.
Printed in the USA with recycled paper and soy ink Blank interior, envelope included 5.5" x 4" (14 cm x 10.2 cm)
Want to send a card with a gift? Just tell us what message you'd like in your card! Simply include your message in the "Order instructions" field when you get ready to checkout, and we'll handwrite it for you and pack it with your order. We love making gift giving easy!
(Or buy a blank card for yourself!)
Founded in 2003 by husband-and-wife team Ted Vadakan and Angie Myung, Poketo has grown from a small startup into a creative hub and online destination. A lifestyle brand born out of the desire to infuse art and design into every day, Poketo creates collections of design-conscious goods to cultivate a creative lifestyle. The name Poketo (pronounced "poh-keh-toe") stems from the mispronunciation of "pocket" by Angie's grandmother. Poketo has worked with brands and companies like Nike, MTV, Disney, Target, Nordstrom, and MailChimp, museums like MOCA, the Guggenheim, the de Young, and SFMOMA, and has collaborated with over 200 international artists, creating exclusive products that reflect its philosophy of "Art for Your Every day." The founders, Angie Myung and Ted Vadakan published their debut book, CREATIVE SPACES, a celebration of creatives, their work, and their spaces. With stunning photography, intimate profiles, and unexpected takeaways, the book showcases an eclectic mix of creatives in the spaces that inspire them. In addition to its online store, Poketo has an LA-based retail location in Santa Monica that hosts art exhibitions, workshops, and other events that serve to foster the local creative community.
Go to top